There are no more items in your cart
Shipping

Free

Total

€0.00
Price
€64.43
Regular price
€107.38
 Last items in stock
Price
€59.77
Regular price
€68.77
 Last items in stock
All sale products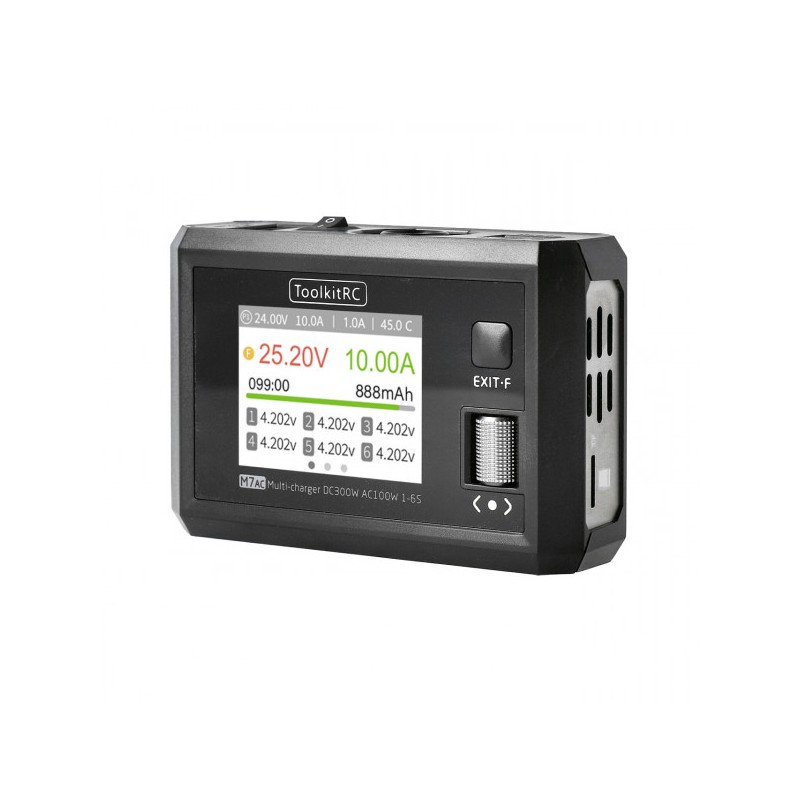  
Toolkit RC M7AC LiPo 1-6S 15A Charger AC/DC

Politiche per la sicurezza (modificale con il modulo Rassicurazioni cliente)

Politiche per le spedizioni (modificale con il Modulo rassicurazioni cliente)

Politiche per i resi merce (modificale con il Modulo rassicurazioni cliente)
The M7AC is a charger with a variety of different functions such as balance charging and discharging. However, it can be used precisely as a signal measuring device or directly as a signal source in terms of PWM, PPM and SBUS signals.
Features:
Up to 300W charging power and maximum 15A charging current
Max. 300W discharge power
Multifunction device

Charger
Meter for voltage, resistance, PWM/PPM/SBUS signals
Playback of PWM/PPM/SBUS signals
Multilingual user interface including voice output

Upgradeable via USB
Various security controls
Technical Specifications:
Input Voltage:
AC 100-240V, max. 100W
DC 7-35V, max. 20A
Charge Power:
0.1-15A, 300W
Discharge Power:
0.1-15A, 300W (Rec/Ext. Mode)
0.1-3A, 15W (Intern. Mode)
Charging Accuracy:
<0.005V
USB A:
5.0V, 10W (or Upgrade)
Balance Current:
800mA, 4.2V
Cells LiPo/LiFe/LiIon/LiHV
1-6S
Cells: NiMH/NiCd
1-16S
Pb Battery Voltage:
1-10S
Voltage:
1.0V-5.0V, 1-6S
Display:
LCD, IPS 2.4'' 320x240px
TF Card:
Supports 128MB to 16GB
Dimensions:
112x73x38mm
Weight:
245g
Measurement & Output:
Measurement
PWM
880us-2200us, 20-400hz
PPM
880us-2200us x8 CH, 20-50hz
SBUS
880us-2200us x16 CH, 20-100hz
Output
PWM
500us-2500us, 20-1000hz
PPM
880us-2200us x8 CH, 50hz
SBUS
880us-2200us x16 CH, 74hz
Power
0.5-15A, 1-28V, Modus: CC+CV
Delivery:
1x M7AC Charger
1x Power cable
1x USB cable
1x Display protection
1x Manual
No customer reviews for the moment.
2 other products in the same category: