Non ci sono più articoli nel tuo carrello
Spedizione

Gratis

Totale

0,00 €
Prezzo
64,43 €
Prezzo base
107,38 €
 Ultimi articoli disponibili
Riferimento: M-TZ-RBE21.5T
Prezzo
51,64 €
Prezzo base
86,07 €
 Disponibile
Tutti i prodotti in vendita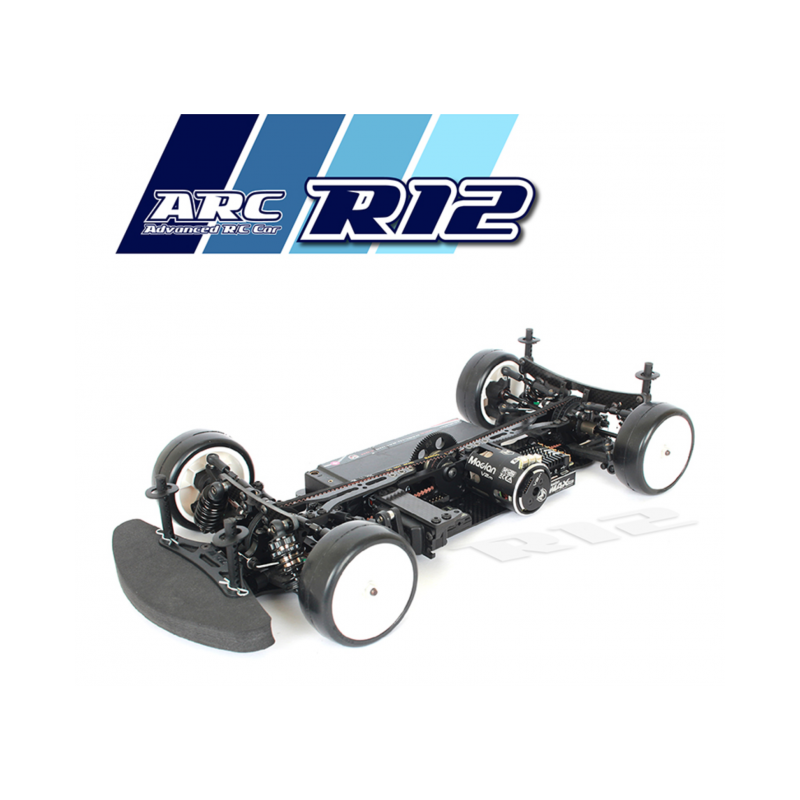  
ARC R12 1/10 Touring Car Kit - Aluminium Chassis

Politiche per la sicurezza

Politiche per le spedizioni

Politiche per i resi merce
We started the R12 1/10th scale competition TC project with 3 main objectives: maximize mechanical traction, increase transmission efficiency and lower the overall center of gravity. After a long term research, development and testing, the R12 is now finally ready for the market.
Here, we introduce the R12's main features:
- New long front and rear suspension arms improve overall traction and corner speed with 2 different shock mounting position.
- New narrow lightweight suspension blocks for the long suspension arm mounting improve overall traction and corner speed.
- New 2-piece mirrored upper deck with independent front and rear flex adjustment.
- New front, middle and diff pulleys provide a centralized transmission system, increasing stability and handling of the R12.
- Locating the rear belt down the centre line helps to reduce chassis tweak.
- Optional 3,5mm wide belt is available for ultimate durability even when running most powerful modified motors.
- New designed middle pulley and spur adaptor simplifies spur replacement by removing only 3 screws.
- New R12 design features a mono-block motor bulkhead allowing multiple front and rear flex settings.
- It also features integrated belt tensioning to reduce belt skip and increasing drive train longevity.
- New upper bulkhead camber link mounts enables simple adjustment of camber link height and length via the use of shims.
- 2 different shock height positions are available on the R12 now.
- The standard position utilizes the upper hole on the suspension arm, while the optional lower shock tower brings lower center of gravity.
- Redisigned Bulkheads also feature lowered anti-roll bar mounting points in keeping with the lower center of gravity philosophy of the R12.
Ancora nessuna recensione da parte degli utenti.
2 altri prodotti della stessa categoria: