There are no more items in your cart
Shipping

Free

Total

€0.00
Price
€64.43
Regular price
€107.38
 Last items in stock
Price
€59.77
Regular price
€68.77
 Last items in stock
All sale products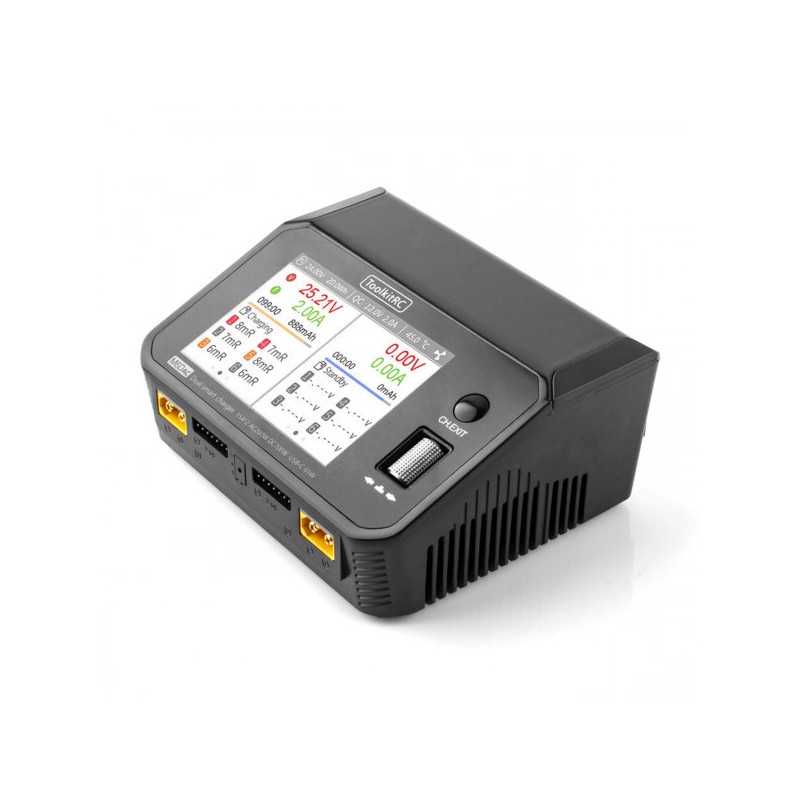  
ToolkitRC M6DAC LiPo 1-6S 15A Duo Charger AC/DC

Politiche per la sicurezza (modificale con il modulo Rassicurazioni cliente)

Politiche per le spedizioni (modificale con il Modulo rassicurazioni cliente)

Politiche per i resi merce (modificale con il Modulo rassicurazioni cliente)
The M6DAC is a dual channel charger with some helpful discharging, cyclic charging and setting features. Due to the special design, the charger is not only able to simply supply two batteries with new energy. This loading process can take place synchronously as well as asynchronously with the M6DAC and that is what makes this charger so versatile. This means that if, for example, two batteries are charged in synchronous mode, the charge runs the same way and the charger can thus provide the maximum charging current of up to 25A. In asynchronous mode, on the other hand, both batteries are charged separately and therefore only a current of max. 15A is possible here. You can also enjoy short charging times thanks to the 65 watt fast charging output, which also supports many mobile devices such as smartphones, tablets and laptops.
Features:
Up to 700W charging power and maximum 25A charging current
Max. 350W discharge power
Including DC (7-28V) and AC input (100-240V)
Simple usage with scroll wheel and one button
Multilingual user interface including voice output
Upgradeable via USB
Various security controls
Technical Specifications:
Input Voltage:

AC 100-240V, max. 2.5A

DC 7-28V, max. 30A

Charge Power:
0.1-15A, 350W x2 (Asynchrone Mode)
0.1-25A, 700W (Synchrone Mode)
Discharge Power:
0.1-15A, 350W x2 (Recycle Mode)
0.1-3A, 15W x2 (Normal Mode)
Charging Accuracy:
<0.005V
USB C:
65W, 20V, 3.25A (or Upgrade)
Balance Current:
1000mA, 2-6S
Cells LiPo/LiFe/LiIon/LiHV
1-6S
Cells: NiMH/NiCd
1-16S
Pb Battery Voltage:
1-10S
Voltage:
1.0V-5.0V, 1-6S
Display:
LCD, IPS 3.5'' 480x320px
Dimensions:
127x106x57mm
Weight:
520g
Delivery:
1x M6DAC Charger
1x Power cable
1x USB to USB-C cable
1x Display protection
1x Manual
No customer reviews for the moment.
2 other products in the same category: