Non ci sono più articoli nel tuo carrello
Spedizione

Gratis

Totale

0,00 €
Prezzo
318,69 €
Prezzo base
331,97 €
 Su ordinazione
Prezzo
64,43 €
Prezzo base
107,38 €
 Ultimi articoli disponibili
Tutti i prodotti in vendita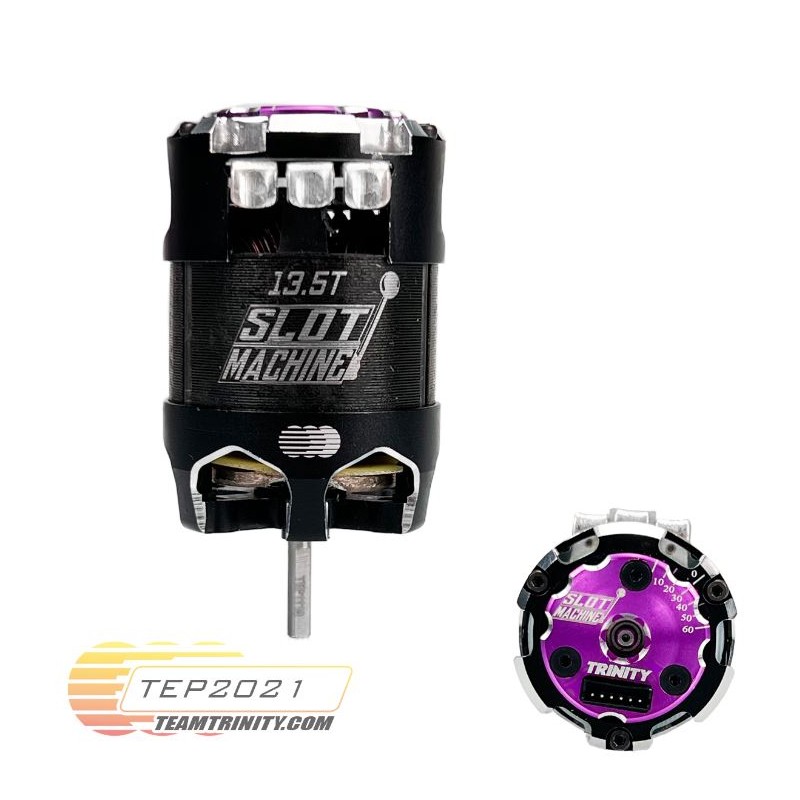  
Team Trinity Slot Machine 13.5 Team SPEC

Politiche per la sicurezza

Politiche per le spedizioni

Politiche per i resi merce
They say that you should never forget where you come from. Here at Team Trinity we always like to take a good trip down memory lane to never forget where we came from. With that said, we are happy to bring back the Slot Machine name with our newest spec motor! 
The Slot Machine picks up exactly where the X-Factor left off but goes a few steps further. The Slot Machine has a brand new, ground up, stator design that was designed with speed, durability, and efficiency all in mind. Both ends feature CNC machined end plates not only for looks, but functionality as well. With tons of space for heat to escape, you can be confident that your Slot Machine is staying cool in even the hottest of conditions. Having an open stator design not only helps with heat, but also allows for the use of long screws. The long screws go through both end plates as well as the new stator with new, reformulated, epoxy specially designed for strength as well as heat dissipation. Both durability and efficiency all in one! Not only that but, all new 90 degree solder tabs make soldering up your brand new Slot Machine a breeze! 
More Quick Features:
New 90 degree solder tabs 
2pc CNC Machined Aluminum can allows for more accurate deviation readings
X-Flow Cooling which pulls more air through the can, reducing motor temps 
Infinite timing adjustment capabilities 
Modular Design with whole-can length hardware and replaceable end caps

 
All new stator design with an immense amount of low end torque without skimping on efficiency
Reformulated thermal Epoxy for best in class thermal dissipation 
Ultra-Rare Earth material magnets for heat resistance and longevity  
Same proven sensor board as X-Factor Modified 
Sealed bearings for durability and high performance 
TEP1119 12.5x25.5mm Rotor Included! 
Designed well within ROAR, EFRA, and BRCA standards 
Team Spec Tuning Option: 
Looking for that extra bit of horsepower? Look no further than a Team Spec edition motor. Team Spec motors are the top 5% of the batch of motors. Every motor we ever ship out goes through our rigorous inspection process and only the top 5% get to become Team Spec motors.
Team Spec Quick Facts:
Marked Resistance numbers in the box 
Visually inspected for imperfections 
*Prodotto escluso da sconti e/o promozioni
Ancora nessuna recensione da parte degli utenti.
I clienti che hanno acquistato questo prodotto hanno comprato anche: